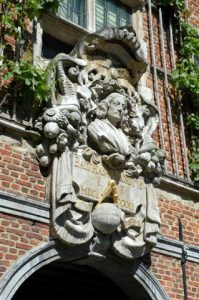 Antwerp reached a peak both commercially and artisticly in the sixteenth century.
That period is called "the Golden Age".
Antwerp had definitively taken over the role of the trading metropolis from Bruges and was preparing to maintain this position. The city was booming and construction workers were to be seen everywhere (a bit like nowadays).
The Church of Our Lady was finished and consecrated as a Cathedral and in a few years' time the Meathall (Vleeshuis), City Hall, Hessenhuis, St Jacobs and St Paulus churches, etc were built and or finalised.
The (apparent) wealth of the city attracted entrepreneurs and artists from all over the world to the metropolis to settle, trade or create masterpieces.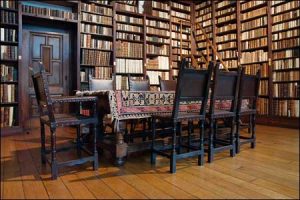 One of these entrepreneurs was Christophe Plantin who also sought (and found) his fortune in our city and went down in history as the first industrial printer. The story of Plantin and the Moretuses spans three centuries and continues to fascinate. Not least because of Plantin's dangerous way of life during the religious battle that erupted in the Netherlands in the 16th century …
Today, over 450 years later, Christopher Plantin and the Moretus family invite you to their home, their business, their bookshop, their library.
The Plantin Moretus museum is a perfectly preserved time capsule in which we find a sixteenth century home and printing studio, the biotope of an influential citizen during the Golden Age.
I will lead you through lavishly decorated salons, Plantin's office, the proofreaders' correction room, the archives, an intact type foundry, the geography room with ancient maps, globes and drawings and of course the printing studio.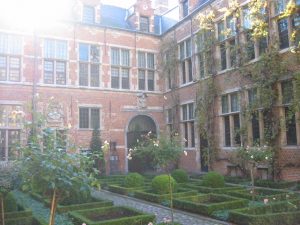 The printing studioon the ground floor holds the oldest printing presses in the world, two of which date from the 16th century. All this is supplemented by a large collection of paintings by Rubens himself and makes this museum one of the most impressive ones in Antwerp, if not Belgium.
The inner garden is breathtaking. An oasis of peace and calm in a bustling city.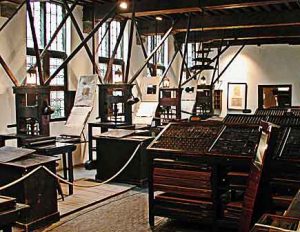 No wonder this museum has been inscribed on the UNESCO World Heritage List since July 2005.
Maximum 15 participants.
From Tuesday till Saturday.
Duration: 3  hours
Price 21€ pp based on min 15 participants (VAT/BTW included):
For smaller groups:

Up to and including 4 participants: 210€ in total.
For each additional participant: 10€

Example: 6 participants = 210€ + (2×10€) = 230€
Example: 9 participants = 210€ + (5×10€) = 260€

including tasting of 2 typical Antwerp regional products.
Excluding eventual entrance fees.
Entrance Plantin Moretusmuseum excluded.
Info and reservation, click here.