'Plezant' is a word we people from Antwerp use all the time. You could translate it with 'pleasant', but it is more than that. It is 'plezant' when you have fun, you laugh, you explore, you learn, and you enjoy!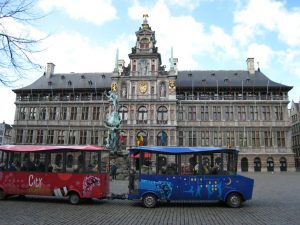 On this fun journey through the city of Antwerp We explore different neighborhoods with their typical characteristics.
From the historical centre we board our personal Touristram for a fun 2 hour tour trough the city.
We'll discover the Paris-inspired trendy area 'South', a majestic 19th-century neighborhood with impressive roundabouts and majestic statues.
Later on we explore the old port where "het Eilandje" (the small island) is the new place to be. Beautiful warehouses are silent witnesses of the glorious maritime past and
embracing a promising future.
Just look at the major building projects, some finished already, others still in the pipeline: the MAS, the Red Star Line Museum, harbour house, … and the many residential buildings right in the heart of Antwerp's maritime history.
The ride is filled with anecdotes; Brabo and the Giant, Lange Wapper … and introduces you to some delicious Antwerp specialties; Antwerp hands, Elixir d'Anvers, …
We leave our vehicle at the castle along the Scheldt and enjoy a delicious portion of authentic Belgian fries and we end the tour with a local beer or other refreshing drink in a cozy pub close to the Grote Markt.
From Tuesday till Sunday
Duration: 2 hours
Minimum 15 participants
Price on request